As businesses continue to develop and thrive, the demand for practical and cost-effective ways to manage their operations becomes increasingly vital. This is where outsourcing comes in. Regardless of whether you own a small or large enterprise or a startup, IT outsourcing can offer many benefits, from reducing costs to accessing specialised expertise. But what exactly is outsourcing, and how does it work?
This article will dive into the outsourcing world and explore all you need to know about this popular business strategy. Get ready to learn the power of outsourcing and how it can instantly transform your business!
Outline
What is IT Outsourcing?
Types of IT Outsourcing
Advantages and Disadvantages of IT Outsourcing
Models of IT Outsourcing
Five best IT outsourcing providers
What is IT Outsourcing?
IT outsourcing is a business approach in which a firm contracts a third-party organisation or person to manage specific areas of its technological wants and needs.
This could apply to solutions like software development, help desk assistance, infrastructure, network upkeep, or data centre management. By outsourcing these duties, companies can cut expenses, gain access to advanced expertise, and concentrate on their primary business operations.
IT outsourcing is gaining popularity as technology develops, enabling businesses to access global talent pools and maintain competitiveness in the digital era. So, if you are new to IT outsourcing, you absolutely need to jump on the bandwagon. Lucky for you, this article contains everything you need to know about IT outsourcing, especially if you are new to this approach.
Types of IT Outsourcing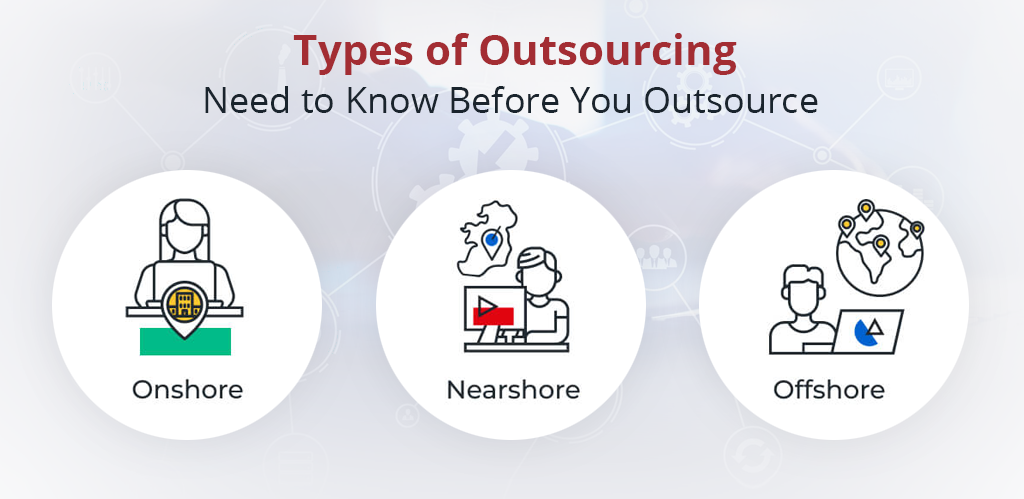 Imagine you run a small business that sells fashion wears online. Your business has been growing steadily. However, you notice you spend too much time on IT tasks such as software updates, website maintenance, and data management (especially as your business grows and more people visit your site). What do you do then? You know you need help but are unsure where to turn. Well, that is where IT outsourcing comes in!
IT outsourcing is like hiring a superhero team to handle your IT tasks while you focus on selling your amazing wear. However, it is essential to note that there are three different types of outsourcing to choose from. It all depends on what you want and need.
The three types of IT outsourcing include:
1. Offshore Outsourcing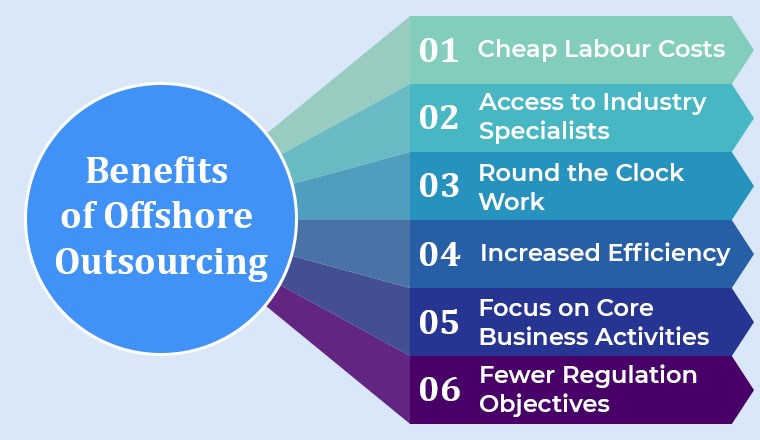 Offshore outsourcing is a business approach where a firm engages a third-party company or person situated in a different nation to handle specific areas of its business operations. This can include various services like software development, customer support, data entry, and more.
Using our superhero analogy, offshore outsourcing would be like employing a superhero from another country like Black Adam.
Here, you collaborate with an IT company based abroad, frequently in an area with cheaper labour expenses. However, time zones, communication issues and cultural or linguistic differences can occasionally make this a less expensive option.
Therefore, before choosing, businesses must carefully weigh the potential advantages and risks of offshore outsourcing.
2. Nearshore Outsourcing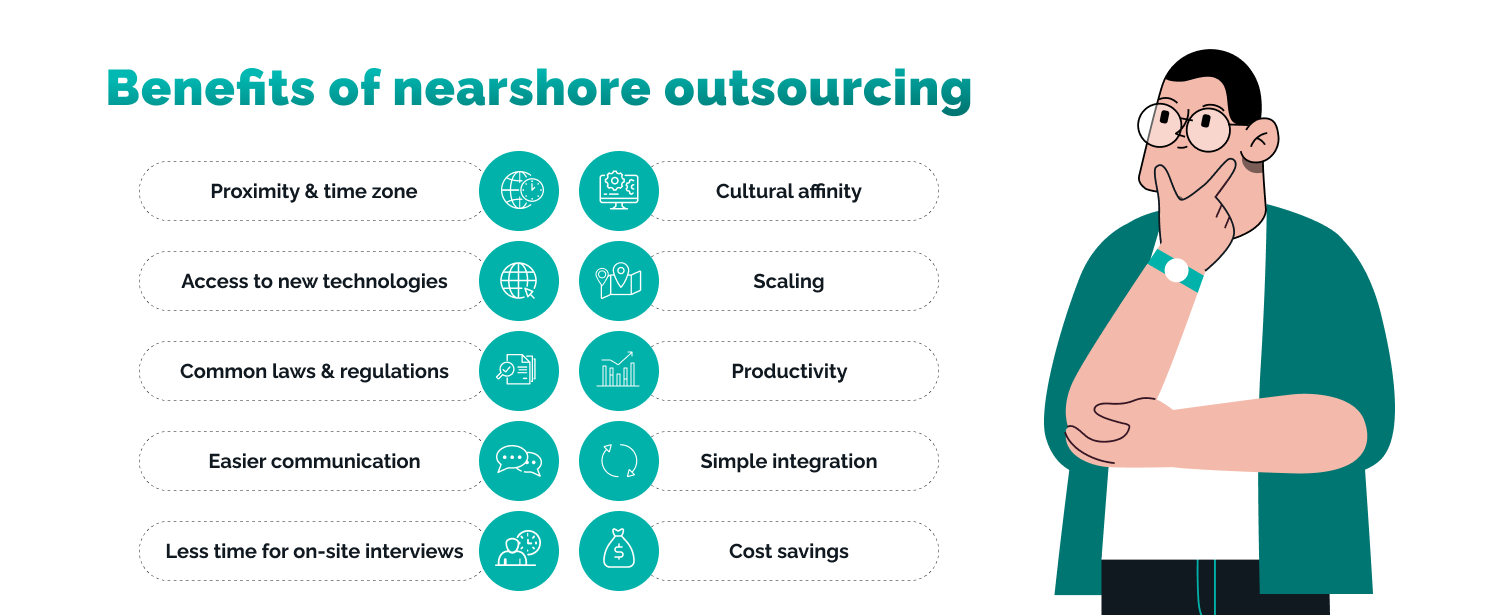 Nearshore Outsourcing entails hiring a third-party organisation or individual that resides in a nearby nation or region to manage specific components of their business operations. It strikes a balance between onshore and offshore outsourcing and can provide advantages like lower costs while maintaining the ability to interact freely and work in similar time zones. However, when choosing a nearshore outsourcing partner, companies must also consider cultural compatibility and work quality aspects.
Still going by the superhero analogy, you hire your superheroes from a neighbouring location. You collaborate with an IT firm based in a nearby nation or area. If you want to cut costs while maintaining easy communication and the ability to operate in similar time zones, this can be an excellent solution.
3. Onshore Outsourcing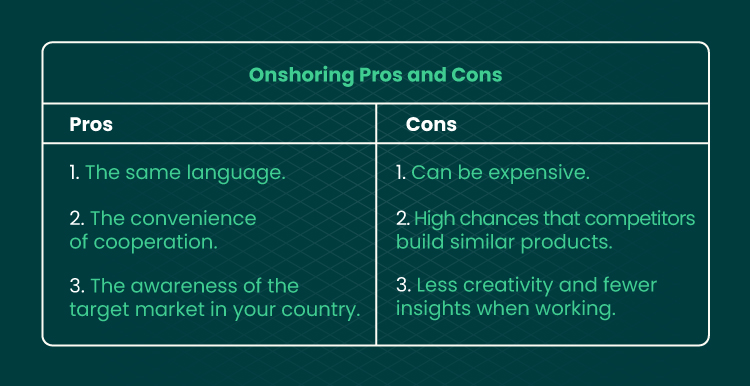 Onshore outsourcing, sometimes called domestic outsourcing, is a business technique where a company employs an outside firm or person based in the same region to manage specific areas of its business operations. This can involve work on the creation of software, providing customer service, managing data, and other things. Onshore outsourcing offers advantages such as more straightforward communication, cultural compatibility, and better job quality.
Furthermore, it can be helpful for companies that handle sensitive data or must adhere to local laws and regulations. Onshore outsourcing, however, could be more expensive than offshore or nearshore outsourcing, so companies should carefully weigh their options based on their unique needs and priorities.
Sometimes, some people regard Cloud Computing as a type of IT outsourcing because it allows businesses to store their data without the need on the business's premises.
However, regardless of the type of software outsourcing you choose, you get to obtain specialist knowledge, save time and money, and concentrate on your most substantial areas.
Learn about: 15 Advantages of Cloud Computing
Advantages and Disadvantages of IT Outsourcing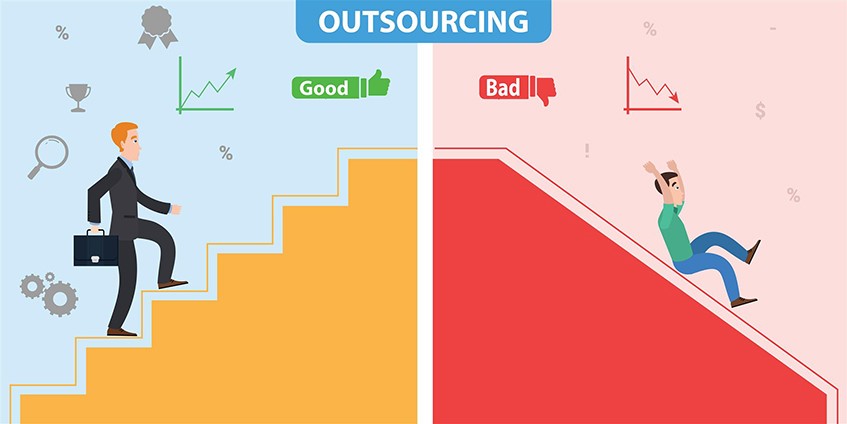 As earlier established, IT Outsourcing is fast becoming a popular strategy most businesses use to actualise their processes. However, like any business strategy, IT outsourcing has several benefits and drawbacks that should be carefully weighed.
Let's discuss some of these advantages before we explain the disadvantages.


Advantages


1. Minimises IT costs
Businesses only pay for their time and resources when outsourcing their IT activities, converting fixed expenditures into variable costs. For instance, when a full-time IT employee is hired, there are no additional expenses for training, insurance, employment taxes, or retirement plans.
Hence, businesses can save more on operational or fixed costs instead of paying on a usage basis.
2. Scalability
Firms can quickly scale up or reduce their operations depending on their changing demands by utilising IT outsourcing. This is because an excellent IT outsourcing company will have the capacity to launch new projects straight away. Comparatively, carrying out the same project internally could take weeks or months due to the time required to find the appropriate candidates, train them, and offer the necessary support.
For instance, by hiring Wazobia Technologies to handle your software development, you get to sit back, relax and remain in control while an efficient team swiftly crafts your software to perfection.
3. Security
Businesses can opt to hire a third party to handle their cybersecurity needs. IT Outsourcing offers solutions to help organisations without security employees swiftly start up threat intelligence, detection, and response. However, this can come with hazards, mainly if the other party is in a different time zone and cannot react immediately to signals.
Additionally, outsourcing any IT function typically risks overall company security. For example, handing over partial or complete control of a company's resources to a third party often jeopardises network and data security.
4. Focus on core operations
Businesses can free up resources and concentrate on their core functions and strategic objectives by outsourcing IT services. For example, the objectives of every firm are to close sales, generate revenue, and expand. But, unfortunately, you only have a finite amount of people, resources, and time to complete this. So why not avoid worrying about intricate IT problems beyond your area of expertise, preventing you from achieving your final objectives, and start outsourcing IT services today?
5. Expertise/ Experience
Companies that provide managed IT services frequently encounter similar issues. Hence, it is often easier to proffer a solution based on expertise. However, in-house IT staff may not be thoroughly familiar with some problems, so they have no choice but to conduct research and experiment.
Let's look at it this way. Would you rather have a plastic surgeon performing their first procedure on you, or would you prefer one with a history of 100 successful operations?
Disadvantages
1. Communication challenges
Working with outsourcing partners in different time zones or locations can make communication difficult, affecting project timeframes and deliveries. For example, both the employee and the vendor are impacted by evasive communication when a clear explanation of the issue or solution is needed.
2. Loss of control
For some business owners, outsourcing may result in losing control over specific aspects of their operations.
3. Data security risks
Due to the possibility of sharing sensitive information with other providers, outsourcing can compromise data security and confidentiality. In addition, the company collaborating with the outsourcing team is also endangered if any of its networks or devices are improperly set up or unprotected.
4. Compliance threats
The third parties a company works with also affect its compliance status; if any of them violate the GDPR or other laws, that company will no longer be compliant. In addition, the company collaborating with them is also at risk if any of its networks or devices are incorrectly set up or unprotected.
5. Quality concerns
Concerns about the calibre of the work produced by outsourcing partners may arise, mainly if there are linguistic or cultural issues.
Additionally, If a company does not spend a lot of time evaluating possible IT outsourcing companies, the calibre of their IT services may even decline. This is because not all outsourcing companies provide high-quality services, and getting stuck paying for too little labour wastes time and money.
Models of IT Outsourcing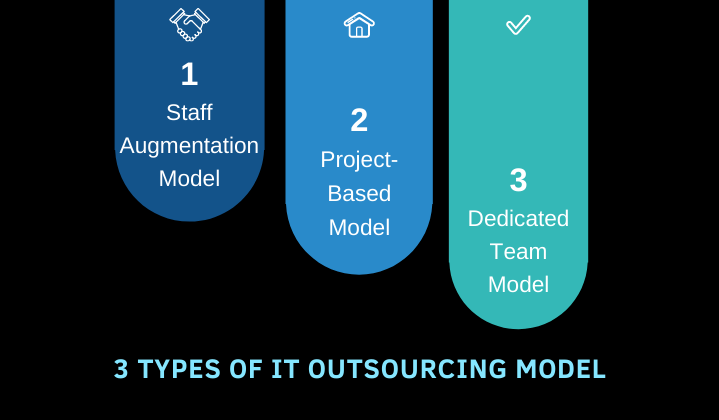 There are three major IT Sourcing models. They include:
1. Project-based Outsourcing model
IT projects that are outsourced frequently have a distinct beginning and end. This is because there are tasks associated with these projects that must be finished.
Here, the client appoints a team to carry out the portion of the project that has already been planned and specified. Additionally, the entire burden of accountability for the project's quality and effectiveness rests with the project manager from the contracted team.
Pro tip: Use this model for basic tasks with predictable and well-researched functionality.
2. Dedicated model
In a dedicated team model, contract workers work with the paying organisation, typically on a project. In contrast, an external team may partner with the company over a more extended time and support numerous initiatives. However, dedicated teams that have been outsourced are a preferable option for significant software development. A dedicated IT outsourcing staff is more involved in your project than the project-based model is. In this model, a contracted team is your technical and product advisor.
Pro tip: This model is best used by startups in their early stages that are anticipated to expand, complicated long-term projects with room for growth, and projects with many ambiguous criteria.
3. Outstaff model
This model can also be called the Workforce or Staff Augmentation model. Here, businesses hire people on a contract basis to cover skill gaps in their organisation. These workers may be located abroad and frequently work remotely. Businesses are also relieved of the obligation to cover the additional expense of their benefits when they hire temporary workers.
Pro tip: This model is best for short-term projects because there is a chance your out-staff employees will not stick around for very long.
5 Best IT Outsourcing Providers
Choosing the right IT outsourcing provider can be critical for businesses looking to improve their IT operations or reduce costs. However, we want to reduce this challenge by providing you with the industry's five best IT outsourcing providers, known for their expertise, quality of service, and innovative solutions.
Wazobia Technologies is a Software Development Agency specialising in custom software products and operations. In addition, they provide engineering solutions to help solve business needs for our clients, ranging from small and medium-sized enterprises to multinationals.
Wazobia Technologies has also developed helpful custom software such as content management systems, Hr management systems, inventory management systems, cross-platform applications, etc.
2. Accenture
Accenture is an industry leader in professional services that provides consulting, technology, and digital services in addition to outsourcing IT services. They are a top choice for companies trying to be innovative and maintain an edge over competitors due to their knowledge of emerging technologies and digital transformation.
3. IBM
Global IT services provider IBM offers various services, including cybersecurity, cloud computing, and IT outsourcing. With years of expertise and a presence in more than 170 nations, IBM is a dependable supplier for companies of all sizes.
4. Infosys
Infosys offers various IT services, such as cloud services, application development and maintenance, and infrastructure management, emphasising innovation and sustainability. It is renowned as a global provider of outsourcing, technology, and consulting services.
5. Deloitte
With an emphasis on ERP and digital transformation, Deloitte provides enterprise technology and performance-managed services (a type of outsourcing).
Businesses can also move from outdated databases, create hybrid cloud systems, and implement robotic process automation tools with the help of Deloitte's cooperation with SAP.
Conclusion
Businesses of all sizes can gain a great deal from IT outsourcing. Outsourcing can help organisations stay competitive in a fast-evolving technological world by reducing costs and granting access to specialised skills. Although several IT outsourcing models are available, businesses must carefully assess their needs and priorities to decide which model and provider best fit them.